Click here to Join the Local 2822 email List
CONTRACT NEGOTIATIONS UPDATE
On Wednesday July 14th workers from all 6 AFSCME Locals, representing almost all the major job classifications and departments, met with County Management to begin bargaining for our 2022 contract.
WHAT HAPPENED
The County rejected all our proposals, save a few insignificant details, arguing their robust benefit package already exceeds market standards and meets our needs.

We strongly rejected all the County's take back proposals and we maintained all our proposals.

We only agreed to County Proposal 1, "Convert to gender-neutral language throughout all of the contracts. Replace "he/her, s/he" with "their/they/themselves" throughout." 
BRINGING MEMBERS TO THE TABLE, CALLING FOR COVID PAY
While the County's initial refusals were frustrating, our spirits were buoyed by worker testimonies.
At the beginning of negotiations, front line workers joined the bargaining team to tell the County why we need hazard pay for onsite workers and money for internet, utilities and office equipment for remote workers. 
Hazard Pay and Remote Work Stipend
Speaking to hazard pay, Correctional officers Jackie Hergh, Steve Camp and Warren Cox (DOCCR*, Local 1719) highlighted high COVID risk and short staffing at the institutions.  
Service Center workers Hannah Hautman and Amy Lantaigne (REES, Local 2822) talked about how they risked their lives to come into work and should receive additional compensation the way other retail workers like grocery store workers did.  
Remote workers Yoshauna Sampson (HHS, Local 34), Rita Watson (CAO, Local 2822) and a member of Local 2938 (COA) spoke to the increased costs of working from home. 
Said Sampson, "I kept getting notices that I exceeded my data plan for an internet service I thought was unlimited. Even after limiting my kids internet usage, I still I had to keep upgrading my plan and paying more for internet." 
Observing how the pandemic had put her further behind, Watson noted, "It's not right that I've been working for the County for 20 plus years and I'm still scraping to get by."
Hennepin County received 220 million dollars in 2020 and 246 million dollars in 2021 in Federal funding for COVID expenses. Despite receiving nearly half a billion dollars in funding, the County has not dedicated any money to pay workers for the additional risk or costs they incurred while working through the pandemic.
After the testimonies, Labor Relations Director Kathy Megarry asserted that the County is not obligated to negotiate over COVID costs incurred in 2019 and 2020.  She further stated that remote workers were saving money by not having to pay for daycare, clothes and transportation!
The union will continue to fight for COVID money to be used to compensate workers!
OTHER HIGHLIGHTS
Student Loan Repayment
Rejecting the union's proposals for a $5,250 reimbursement for student loan repayment, citing the Federal Public Service Loan Forgiveness Plan (PSLF) that forgives the remainder of student loan debt for workers after 120 monthly payments are made while concurrently working in qualified public service position.

Eligibility for the PSLF depends on your FTE allocation, what types of loans you have, your ability to make payments on time, and has a 98% rejection rate among applicants. Furthermore, it is not a County benefit. County workers took on debt to gain the skills they need to serve residents. The County should help pay for it. 
Paid Leave for Emergency Child/Dependent Care
In Megarry's written response to our request for 160 hours of paid child and dependent care leave at full pay for emergency school closures and situations she responded it wasn't need:  "Only a few employees used the childcare leave in 2021…. Suggesting most employees are able to meet their child care/dependent care needs within the existing leave structure and/or because of the dramatically increased flexibility created by the ability to work remotely." 

Few employees took advantage of the 2/3 paid leave for childcare because management never widely promoted the leave, Supervisors routinely deny it, and most cannot afford a 1/3 pay cut.
Increasing Days off Work 
Brianne Carmichael (HHS, Local 34) spoke to culturally relevant Grief loss and Bereavement leave and more hours to grieve personal and community loss in the wake George Floyds murder. 

Megarry responded saying that more days off for workers means taking away services from residents. 

Union representatives were offended by this comment. Taking care of workers doesn't mean cutting services. Cutting front line staff and adding management positions does!

The community does better when departments are adequately staffed and workers are well paid, respected and able to take time off of work to rest and recuperate. 
Value the workers who serve the community: respect us! Pay us!
NEXT STEPS 
Union representatives return to the bargaining table July 30th. You can support our demands at the table by:
Providing testimony: If you would like to speak to any of these proposals please email [email protected]. 

Wearing green to work 

Updating your Teams and Outlook Calendar profile picture to green 

Take a look at the proposals below and respond to this email with the issues are most important to you!
*Department Acronyms: DOCCR-Department of Community Corrections, REES- Resident Real Estate Services, COA- County Attorney's Office, HHS-  Health and Human Services
SIDE BY SIDE COMPARISON OF UNION AND EMPLOYER PROPOSALS
AGREEMENT: Convert to gender-neutral language throughout all of the contracts.   Replace "he/her, s/he" with "their/they/themselves" throughout.
UNION

EMPLOYER

WAGES 

Employer will not provide $ amount till Sept 

$5 NOW! Equal Raises for All!

Employees who received a $3 increase with

the $20 minimum, would get $2 increase…

No

$5 @ the top! 

Honor Loyal workers!

Will discuss increasing top

7% Cost of Living Adjustment

Will offer some amount each year

5 steps/5 years to the top, or 5% steps

       Shorten the time to the top!

Will continue some type increase

5% at time of Promotion

No 

Double time it takes for OSI, OSII's to get to top pay

Same performance review date for all so supervisors can "compare employees"

1% of wages to health care savings plan

COVID COMPENSATION:

 

Hazard pay, onsite workers: $500/month, retro

No

Internet & utility stipend, remote workers: $200/month

No 

Commissioners considering 1x $500 payment, would put link in contract 

Office Equipment: $1500 initial, and $750 every 4 yrs

No

Return Vac/sick/PTO to workers furloughed in 2020

No 

16 hrs for vaccination and recovery, retro

No

INSURANCE/HEALTH AND WELLNESS

 

 

Decrease out of pocket costs to members

Increase premiums for higher paid workers in certain plans

Eliminate Employer's ability to "steal reserves" by not paying for premiums

Take away Union Dental for those who have it

Give money back to employees who don't "waste" insurance money

Take away Trade Time for Fitness program (no longer can use sick leave for fitness).  Increase Vacation cash-out by 10 hours, from 40 to 50.

RACIAL JUSTICE/NON-DISCRIMINATION

End  workplace discrimination, harassment, and bullying

No 

 

Strengthen NDRW process and allow union representation

No 

 

SAFETY 

 

 

Protection from client threats and harassment

No 

 

Union representation, emergency health & safety committees

No 

 

PPE & building modifications provided by Employer

No 

 

Include County Indemnification Policy in contract

TENTATIVE AGREEMENT to add a link to the Indemnification Policy to Article 22, Section 2.  

 

CHILDCARE/CAREGIVER 

 

 

Annual $5,250 to dependent care expense account

No 

 

On-site childcare

No 

 

12 weeks paid parental leave

No, will add link to current 3 week parental policy to contract.

 

Attendance flexibility for child and dependent care

No 

 

STIPENDS/EXTRA PAY 

Annual $5,250 student loan payment reimbursement

No 

100% subsidy for transit pass

No 

$250/month parking reimbursement

No 

Increase language stipends to $100/pay period, $20/day, change title to "multilingual"

County will agree the use of the term "Multilingual" if the Union will agree to drop the remainder of this proposal

Expand and increase weekend/night differential to $2/hr

In exchange for withdrawing the remainder of the weekend proposal, the county is willing to agree to the proposal to pay all hours worked on Saturday and Sunday for Sheriff's Office only.    

Premium pay for more than 16 consecutive hours worked

No 

PAID LEAVE 

VACATION/SICK/PTO

Increase # of vac/sick/PTO days by ½

No 

Allow switch from PTO to vacation/sick time

Eliminate vac/sick for new hires-force them to take PTO

Eliminate ability to switch to PTO after period

Take away from our severance pay:  stop ability to move from vac/sick to PTO before leaving County.

PTO/vacation accruals for all hours worked & paid

No 

Increase cap for vacation/sick time & PTO accruals

No 

Addition of mental health in sick leave article

agree to add "mental health" in exchange for the union dropping their other proposals in this article

Allow donation of vacation hours & any paid leave

Agree to put a link to PTO/vacation donation program in contract in exchange for dropping proposal. 

Remove approval of County Admin for vac/PTO cash out

No 

 

Take back ability to "run out" paid leave before retirement

EMERGENCY LEAVE

160 hrs Paid emergency caregiver leave

No most employees are able to meet their child care/dependent care needs within the existing leave structure and/or because of the dramatically increased flexibility created by the ability to work remotely.

Paid leave for all building closures

No 

Up to 3 days paid leave after traumatic event at work

No 

GRIEF, LOSS AND BEREAVMENT

Increase to 160 hours/yr

No 

Include death of friends and co-workers

No 

Include hospice and end of life care

No 

HOLIDAY

New holiday: Indigenous Peoples' Day

No 

Deferred holiday to match shift length

No 

Flexibility to work on holiday & bank hours

No 

Carryover of holiday hours (excluding Locals 34 & 2864)

No 

Employee choice of overtime in cash or comp time

No 

SPECIAL LEAVE WITHOUT PAY

Unlimited Special Lave without Pau

No 

Use instead of vac/sick/PTO

No 

CIVIC LEAVE 

 

Expand election leave for early voting

No 

Schedule adjustment for jury duty for 24/7 work areas

No 

Expansion of time off for jury selection

No 

UNION RIGHTS

Seniority for transfers and promotions

County dropped proposal to weaken seniority language by reducing time on layoff list to 1 year from 3 (current time on seniority list varies by Local)

Union presentation during County new hire orientation

No 

Work time, duties, and desk coverage is the responsibility of the Employer

No 

PERFORMANCE REVIEWS 

 

Make annual performance increase grievable

No 

Exclude active discipline from Employee Performance Evaluation

No 

Allow employees to start performance review process

No 

Require mid-probationary period review, and advance notification of probationary period extension

No 

Moratorium on PIPs and performance discipline in declared state of emergency

No 

EXPAND RIGHTS FOR TEMPORARY  WORKERS

 

No replacement of permanent staff with temp, volunteers, machines

No 

Change seniority date to actual start date rather than date as regular employee

No 

Increase # of permanent positions

No 

Preference for LTD staff for permanent vacancies

No

DISCIPLINE

Remove Written Reprimand after 1 yr/ currently 2 months

Take away ability to remove written reprimand from HR file

Remove oral after 6 months

No 

Remove Suspension after 3 yr/currently no removal

No 

Ability to write rebuttal for coaching or suspension

No 

Notification of items in supervisory file

No 

Supervisor cannot refer to removed discipline

No 

Change Fitness for Duty language to be employee's choice of evaluator and paid time

No 

GRIEVANCE HEARING 

Create 6 month time limit to schedule arbitration

No "back-pay" beyond 6 months for arbitration

Loser to pay for costs of arbitration

County Administrator to hear grievances for union officers

No 

Increase time to 21 days to file Step 2 grievance

No 

Add Step 3 to Grievance Procedure

No 

SEVERANCE* to be decided local by local

 

Change severance cash out of vac/sick/PTO: 50% of cash out to health care savings plan.

County pays out 800 hours sick and vacation, 480 hours PTO after 8 years of continuous employment.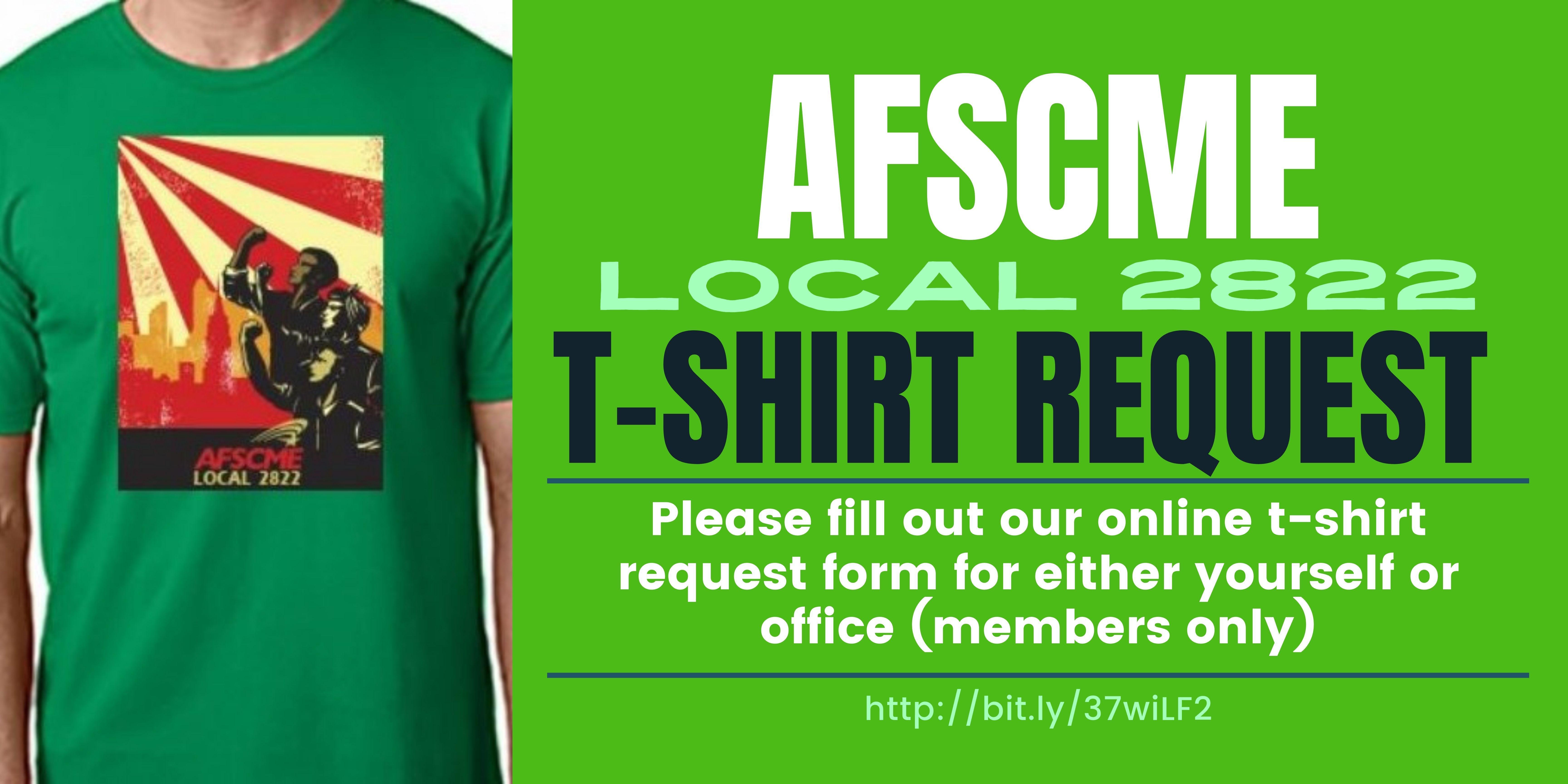 COVID Response
For when you get sick or quarantined (160 hours @ home, 240 hours @ worksite)
Parents/Caregivers
If you are at risk
Looking for more information on COVID 19 follow the AFSCME Council 5 Resources. Click Here.